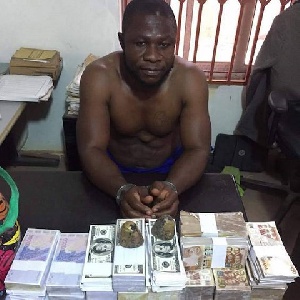 A self-professed Mallam in Obuasi in the Ashanti Region has been arrested by the Police for allegedly defrauding someone to the tune GHC81,000.
The victim, John Opoku, was said to have contracted Mallam Latif Abdul Mumuni to help him unearth some gold buried by his late grandmother at Wassa Kwame Dikrom, a community in the Wassa Akropong district of the Western Region.

According to the Police, Mallam Mumuni succeeded in collecting a total of GHC81,000 from the victim.

Western Regional police PRO, ASP Olivia Ewurabena Adiku who briefed 3news.com said the Mallam in turn gave the victim different denominations of fake US dollars, euros, CFAs and Cedi notes, all amounting to GHC1.5million
Unhappy about the development, John Opoku reported the matter to a military police patrol team in the area which helped him together with three others, to arrest the Mallam Mumuni on Saturday, December 30.

At least eight people from the same community have since come forward to accuse the Mallam of similar fraudulent acts.

The Wassa Akropong District Police Command says Mallam will be put before court on charges of defrauding by false pretense and possession of fake currency.