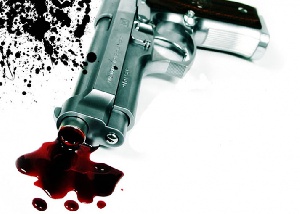 A man who attempted burglary has been hospitalized in Bole in the Northern region after he was shot in the thigh by a gold dealer as residents intensify a crackdown by mob justice on highway armed robbers and gold raiders.
A scuffle ensued between the victim, Abdulai Mustapha and Aliu Mahamadu, a gold dealer, at about 7pm when he burgled through a window into a gold shop.

The suspected thief sneaked into the shop while the shop owner and other Muslim congregants were performing night prayers. Aliu Mahamadu aborted the prayers and raced into the shop after realizing the intrusion.

He was however overpowered by the burglar during a physical struggle forcing him to reach out for his handgun and fired at the fleeing thief.

Incidents of armed robbery attacks on local miners in the area and road users is on alarming increase forcing residents to stockpile arms and launch a crackdown.

Bole District Police commander, ASP David Azumah speaking on the shooting said the gold merchant has been arrested into custody and currently under probe.

The victim is currently being treated at the Bole Government hospital and Ultimate News sources at the facility reported.
"He (suspect) shot him when he attempted to escape and he is currently in police custody," ASP Azumah said.

He said the suspect will be prosecuted without giving details on what charges.

Police in the area have been accused of conspiracy for failing severally to quell the attack or arrest the perpetrators, a charge they denied.

The police responding to the allegation also blamed insufficient vehicles for their inability to head off the armed robbers.

Several people have been robbed and killed by the robbers who have consistently outsmarted the police.