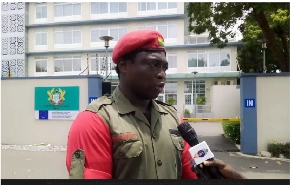 Sun, 24 Sep 2023 Source: GNA
Dramani Selorm Dzramado, Convener for pressure group, Justice for Ghana, Friday embarked on a one-man demonstration to compel the Electoral Commission (EC) to expand the ongoing limited voter registration beyond its district offices.
Dzramado picketed outside the Commission's Corporate Head Office in Ridge, Accra, about 0800 hours, wearing a customized outfit and a red cap embossed with Ghana's Coat of Arms, with a Ghana flag wrapped to his left wrist.

He, however, did not present any petition to officials of the Commission.

Mr. Dzramado told the media that the three-day protest was the first of many steps he would take to get the EC to grant his request.

He explained that the Constitution required the EC to, among other things, compile a voter register and revise it as needed, hold public elections and referendums, educate the public about the electoral process, and "undertake an exercise for the expansion of voter registration."

Dzramado pointed out that the process as it stood was limited, preventing many eligible citizens from registering and resulting in disenfranchisement.

"As we speak, the voter registration that is taking place by the EC, is nothing but suppression and restrictions of the registration of voters," he said.
The Commission has been criticised for limiting the registration process to its 268 district offices.

Some political commentators, civil society groups, and political parties have accused the EC of wanting to "suppress vote."

However, the EC denied those allegations, calling them "false."

The Commission stated at a news conference on Monday, September 18, 2023, addressed by its Chairperson, Mrs. Jean Mensa, that it was not in its interest to disenfranchise any citizen.

The Commission said it remained committed to ensuring that every eligible voter "desirous of being registered" was captured.

"We have heard of allegations from various quarters that the Commission was disenfranchising eligible voters. This is false," it said.
To that end, the Commission announced plans for a five-month continuous registration period in 2024 to ensure that all eligible voters are registered.

"In addition to that, the Commission will identify difficult to access areas and undertake a mop up registration of voters in those areas," the EC added.

Dzramado said that the EC's intention to hold a continuous voter registration exercise in 2024 would prevent a lot of people from voting in the district level elections slated for December this year.

"Does it mean that the electoral commission is placing much more of a premium on the general election than this one (district level elections), because the constitution doesn't make such a distinction," he asked.
Source: GNA