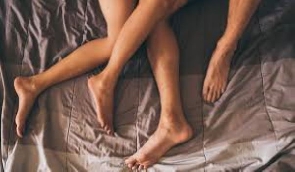 A man believed to be in his late forties and goes by the name Philip Osei has been humiliated in an attempt to sleep with a married woman.
Mr. Osei, a resident of Bibiani, is accused of chasing after his best friend's wife despite the woman telling her she was married and was not interested in him.

According to information available to Rainbowradioonlin.com, Mr. Osei had persistently and consistently demanded to have sex with the married woman, Juliet Addae, who is married to his best friend of many years.

He is said to have also engaged the woman in several late-night calls demanding phone sex.

The woman later informed the husband about the matter, who at a point failed to believe the wife since he trusted his friend.

For the husband to believe the wife, he asked her to play along, and the friend sometimes called her deep in the night with the husband present but unknown to Osei.

Osei later asked Madam Juliet to invite him over whenever the husband was not around so he would have sex with her.
The woman then planned with the husband so they would catch Mr. Osei before the husband would believe.

"A few days later, I told him [Osei] my children were not at home, and my husband had gone to work," Madam Juliet narrated the incident. He rushed to my house, stripped naked, and waited for me in my matrimonial bed. I also came in and told him to look away so I could undress because I was uncomfortable letting him watch me while I undressed. Unknown to him, I had prepared pepper spray, which I sprayed into his eyes after I had finished undressing. After that, I screamed, and my husband came in. Osei tried to flee, but I took his dress outside so he wouldn't be able to run or deny."

Meanwhile, Mr. Addae, the husband, has expressed surprise at his friend, questioning why he [Osei] would want to sleep with his wife.

The friend, according to him, was someone who came to his house to eat and to his beer bar to drink without paying.

"We've become brothers, not just friends, and I was shocked when he tried to sleep with my wife. I have a number of voice recordings of him requesting phone sex with my wife. He promised her Ghc1000 if she agreed to sleep with him. This is not only shocking but also unfortunate for a friend of mine to lust after my wife," he said.