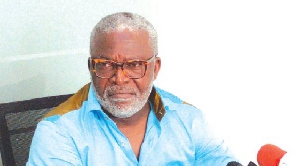 Kofi Kapito has fired shots at Ghanaian slay queens for attempting to bite the same fingers that feed them.
In a viral video flying on social media, the CEO of the Consumer Protection Agency has bemoaned women tagged as "slay queens" to desist from blackmailing married men who sponsor them, else they won't get the money they get from these men.

Kofi Kapito made the comments whilst addressing the Kan Dapaah leaked video call scandal. "Why are we allowing them for them to them to hijack and hoodwink us like us that? Everyman or any man who is given a high position, you should also be very wise and stop this stupid behaviour" he said.
He continued that "if you people are not lucky, I am talking about these slay queens, the money that you get it will not come again because everyman will be so afraid of you that you'll be so careless, foolish girls, I am very very pissed off". Watch the video below for more.