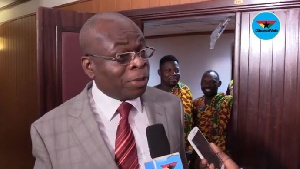 Deputy Minority leader, James Avedzi has urged Martin Amidu to take action against heads of state institutions preventing him from doing his work effectively.
According to him, taking action against them will break the barriers that prevents him from prosecuting individuals who swindled government funds.

His remarks comes after the Special Prosecutor Martin Amidu hinted that heads of some institutions are interfering in the fight against corruption.

A statement issued by Mr Amidu in Accra yesterday, titled: "Challenges of the Office of the Special Prosecutor in Fighting Corruption in Ghana", said his outfit would be compelled to sue defiant public institutions and the Attorney-General (A-G) if the problem persisted.

The stated revealed that heads of institutions are failing to provide and release vital information needed to prosecute individuals involved in corrupt activities.
Speaking in an interview, the Deputy Minority Leader stated that the Special Prosecutor has the power to sue these heads of institutions hindering his work.

"…If he thinks that actions of the heads of department are hindering his work, he has the power to take action against them. So if he has written to tell us that this is what is preventing him from working we all know now as a country so we are encouraging him to go ahead and go after those heads institutions that are making him not to work? He has the power to take actions against then he can get the free hands to do his work and execute the people that have actually taken government money."

An amount of GH¢180million was allocated to the special prosecutor to enable him execute his duty but so far Martin Amidu has only sued Bawku Central MP, Mahama Ayariga for fraudulent evasion of taxes, fraudulent evasion of customs duties and dealing in foreign exchange without a license.

All the charges are related to the MP's importation of three Toyota Land Cruiser vehicles in 2017, partly funded by a loan facility guaranteed by Parliament and accessible for all MPs