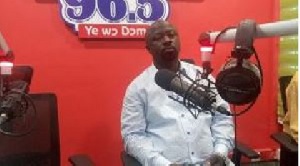 Former Obuasi Metropolitan Chief Executive under the erstwhile Mahama administration Richard Ofori Boakye Agyemang widely known as 'Zuba' has said Special Prosecutor Mr. Martin Amidu is getting 'crazy' with his incessant lies.
According to Zuba the Citizen Vigilante is not trust worthy enough to be the country's Special Prosecutor having failed to prove his unsubstantiated allegation that former President John Dramani Mahama had connived with the EC Chairman to rig the 2016 general election.

Mr. Amidu had said in one of his articles that the erstwhile Mahama administration had plans underway to manipulate the election results but when asked to substantiate his allegation during his vetting refused to affirm his claim saying he didn't mean what hr wrote.

But the former Attorney General, in his recent article stressed he only played a smart move after he failed to prove his allegation before the appointment committee and that his article indeed was spot on regarding the opposition NDC's deliberate attempt to rig the 2016 polls.

Speaking on Abusua Nkomo hosted by Austine Woode, Richard Ofori Boakye Agyemang said "Seriously that man is getting crazy"

When asked by the host to retract his unfortunate comment, he refused to do so saying "I said the man is getting crazy it doesn't mean his mad or crazy as one would want to interpret it"

He continued "Why would a person under his right frame of mind lie before an Oat. If he claim he had evidence then what stopped him from disclosing it to the appointment committee who vetted him. He failed to provide evidence and said he was only joking only to reiterate later that he really meant what he wrote".
''I won't be disappointed if [he] Martin Awudu disappoints President Akufo-Addo.

''Martin Amidu can't be trusted at all judging from what he done recently. How can this man be trusted as a Special Prosecutor''

In his opinion, Ace Ankomah if appointed would have been the right man for the job.

"Ace Ankomah would have done a very good job and President Akufo Addo would have made a great appointment"

"Left to me alone Ace Akomah should be been appointed as the Special Prosecutor" he added.