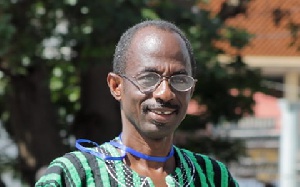 General secretary of the opposition National Democratic Congress (NDC), Johnson Asiedu Nketia insists the special prosecutor, Martin Amidu has not renounced his membership to the party.
Just moments after the nomination of Martin Amidu, there were allegations that the astute lawyer and citizen vigilante had renounced his links to the NDC and this most people believed was to aid the special prosecutor to become political neutral and fair.

Reacting to the claims, general secretary of the NDC states that this was never the case. According to Johnson Asiedu Nketia, Martin Amidu has not submitted any resignation to the party.

"We have also heard the rumours but we have not received any resignation letter from Martin Amidu about any resignation at all. He continues to be a member of the NDC because we want more people to join the party," Asiedu Nketiah revealed.

Going by Asiedu Nketia's remarks, it will be deduced that the special prosecutor has links and deep relations with top officials of the NDC and even former government officials who might also be on the radar of the president.

Be it all as it may, vice president of the Republic of Ghana, Dr Mahamadu Bawumia says no one will be spared under the watch of Martin Amidu. Speaking at the 69th New Year School and Conference of the University of Ghana, the vice president revealed that not even the president can save corrupt officials from the Special prosecutor – Martin Amidu.
The choice for the special prosecutor sparked huge outrage among members of the opposition party who say Martin Amidu's appointment has the potential of witch hunting members of the opposition party that he, Martin Amidu, had issues with.
So far, it is expected that embattled businessman, Alfred Woyome could be the centre of attraction on Amidu's radar as well as the former transport minister, Dzifa Attivor, who tendered in her resignation over the bus re-branding scandal.
The top NDC official had also begged supporters of the NDC to vote for Mahama or risk having her jailed by the NPP.