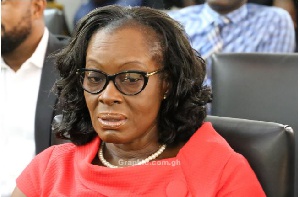 Attorney General, Gloria Akuffo has expressed surprise at the seeming frustration expressed by the Special Prosecutor Martin Amidu over the level of cooperation he receives from the executive on his work.
Mr Amidu has claimed ministers have refused to offer him the kind of support he requires to be able to deliver on his mandate.

"The present situation where critical ministries and agencies have failed even with our limited constraints or refused to produce public records on demand to aid the office in critical investigations, offences running into millions of cedis, clearly demonstrates that there is divergence between the president's vision and that of some of his appointees.

"You ask for information you can't get it, you ask for docket, the docket cannot be produced. You ask a minister for a record, the record cannot be produced. How do you fight corruption when those appointed by the president who has a vision are not coordinating with the office of the special prosecutor to achieve his mandate? That is the challenge we have to face," the anti-corruption crusader bemoaned at a National Audit Forum organised by the Ghana Audit Service in Accra.

Responding to the concerns in an interview with Starr News, the Attorney general said all the issues raised by Mr. Amidu are already being addressed by the Chief of Staff.
"I have held meetings with him [Amidu] that requires sharing ideas about the goings on in the banking industry, we have shared ideas about how we should go about investigating and prosecuting it, there's no time that he had sought to speak with me that I haven't spoken to him."

"There's no breakdown," she added.

On concerns over logistics, the attorney general said the process resourcing the special prosecutor's office is ongoing since all the various procurement stages must be followed to the latter.

"I can't get up and go and buy machines and put in the place and for that reason the Chief of Staff has taken the responsibility to see to it that these things are done. So if you begin to speak like that, it is as though the impression has been created that I have been virulent in my duty to set up that office. I'm saying that's not the case," she said.