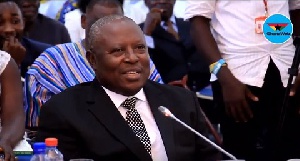 The Special Prosecutor Martin Alamisi Amidu appears not to be interested in launching into the Anas Aremeyaw Anas's latest exposé on corruption in football, albeit, now.
In an exclusive interview with Onua News on Thursday after the premiering of the undercover investigation conducted by Anas's Tiger Eye PI, Mr Martin Amidu suggested it was too early for him to take up the issue.

"It is not for my office to investigate the case that is already under investigation by the CID. No I would not do that," the Special Prosecutor maintained.

Some Ghanaians have disagreed with President Nana Akufo-Addo's decision to request the police CID to investigate the GFA boss, Kwesi Nyantakyi for alleged fraudulent transaction.

They had expected him to report the embattled football administrator straight to the Special Prosecutor whom he has clothed with the powers to prosecute issues related to corruption.

But Martin Amidu explained that it would be improper for him to take up the corruption issue when an equally competent agency has been tasked to investigate.

"The CID is equally a state mandated-body capable of its mandate," he asserted.
Some have commented that the CID lacks the credibility to investigate the matter in which Mr. Nyantakyi was secretly recorded, scheming to "takeover" the country through fraudulent dealings, linking the presidency in the process.

The Special Prosecutor was emphatic, "it is not for me to doubt the credibility of a state institution and that is where I would leave this matter, I wouldn't like to comment on it again".



The investigative documentary was premiered on Wednesday where a number of sports officials including referees where caught on camera taking bribes.



Meanwhile, the National Chairman of the People's National Convention (PNC), Bernard Mornah is backing the Ghana Football Association president to stay in office in the wake of the damning revelations.
According to Mr. Mornah, the GFA President has nothing to do with the rot unearthed in the video that has to do with football, rather, he took the money to influence President Nana Akufo-Addo and his government.



Bernard Mornah however added that, Mr. Nyantakyi can decide to resign based on his own morals.

Meanwhile former Attorney General, Marietta Brew Appiah Oppong wants persons found culpable in the exposé should be prosecuted as soon as possible.