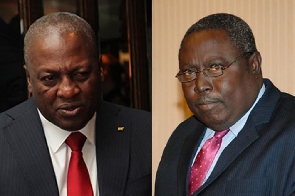 Martin Amidu, a former Attorney General and Minister for Justice has slammed former President John Dramani Mahama for his comment on the judgement of the defamation lawsuit, investigative journalist Anas Aremeyaw Anas filed against the Member of Parliament for Assin Central, Kennedy Agyapong.
Speaking at a lecture on financing political campaigns, at the UPSA auditorium, on March 22, 2023, Mahama said that he will fix Ghana, "our broken Nation", if he becomes president again.

He added that he will build a nation where journalists are not referred to as terrorists referring to the statement the judge made while dismissing Anas's suit that he (Anas) practices "investigative terrorism'' and not investigative journalism.

"God willing, in 2025, when I have the opportunity to be the President of Ghana who has been a President before, I will come with priceless experience to fix our broken nation.

"I want us to build the Ghana, we want together by writing – not footnotes, not pages but – chapters in the anticorruption history of our dear country Ghana. We must also uphold human rights, including freedom of expression and not be describing some journalists as terrorists," Mahama said.

Reacting to this in an editorial on the judgement of Anas' defamation lawsuit, Martin Amidu accused former President Mahama of using the judgement of the court for cheap political talks.
He suggested that just like President Akufo-Addo, Mahama will not fulfill any of the promises he is making.

"The problem I have with the insertion (Mahama's remarks) of the above last sentence as a cheap innuendo and malicious castigation of the court and the judge in the Speaker's speech is that Nana Addo Dankwa Akufo-Addo excelled and exhibited more sophistication in deceiving Ghanaians for their votes at the 2016 elections only to throw those values and promises to the wind as President of Ghana," the veteran lawyer wrote.

"My second issue was whether the former Excellency even found time to read the trial judge's 64-page judgment in which the judge reminded himself in Section H, at pages 11 to 13 of his considered judgment on "H. Defamation and Freedom of Expression." As part of the trial judge's analysis of freedom of expression versus the right to human dignity and its defence through the law of defamation, the court, amongst other things," he added.

Read Martin Amidu's full write-up below:


Watch the latest edition of People & Places below:





IB/OGB