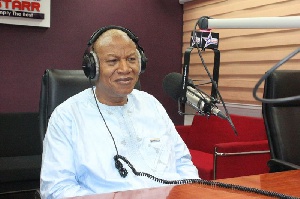 A leading member of the National Democratic Congress, Prof. Joshua Alabi is advising Ghanaians with high expectations that some former government officials are bound to go to jail with the appointment of Martin Amidu, as the Special Prosecutor, to measure their excitement.
Though Professor Alabi strongly believes Martin Amidu is the right man to bring corrupt public officials to book, he reminded the public that his role as a special prosecutor does not make him a judge.

"Martin Amidu is not a judge. He has been appointed to prosecute, and he has to present evidence and then the lawyers will also come up with their defense while the judge comes up with his ruling," the former UPSA Vice Chancellor told Johnnie Hughes on TV3 New Day.

Meanwhile, Prof. Alabi has commended president Akufo-Addo's decision to appoint a special prosecutor as part of efforts to combat corruption.

"I think president Akufo-Addo has done something positive. His appointment of Martin Amidu as special prosecutor is in the right direction, let's see how things go for him," he said .

He therefore cautioned persons who view the special prosecutor as someone out to witch hunt to desist from habouring such thoughts.
Professor Alabi is also hopeful the office will not be looking at only past government but members of the present government as well to ensure objectivity.

Asked what his thoughts on President Akufo-Addo's first year in office were, the former Greater Accra Regional Minister said although the president has done well in certain areas, there is the need for more work to be done in transforming the country.

"He needs to step up his game; we have issues in the area of security. We have major challenges with security and he has to work on that, and act fast."

Professor Alabi also urged the president to act on his promise to create jobs, and expand the job market to cater for the numerous graduates churned out yearly.

"We are not expanding enough to absorb graduates that come out each year. [We are] not growing at the rate at which we are churning out new graduates so we need to expand."
Professor Alabi commended the president for the introduction of the free SHS policy, and called for issues with the policy to be resolved to ensure its smooth operation.

"I pray he polishes the free SHS up. I personally agree with the policy because it is a good policy and when the NDC comes into power we will make it better."

He charged President Akufo-Addo's to do more to realise his mantra, "trade, not aid".

"The initiative is a good one, I believe in trade, and we should do our best to produce best results to level up on the international market."