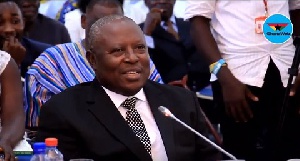 Former Ashanti Regional Vice Chairman of the opposition National Democratic Congress (NDC), Alhaji Mohammed Sani has envisaged the resignation of Martin Amidu as Special Prosecutor in not too distant future.
Though he admits Mr Amidu is the best person for the job, he revealed that attempts to manipulate his operations by some persons he will be working with may see him calling it quits.

On Okay Fm on Thursday, he disclosed that the Former Attorney General and Minister of Justice though not the only lawyer in the country, his competence on the job cannot be questioned.

"If you look at his posture he is a dictator and will claim to know the law more than everybody. If the board insists there will be a problem in the country because he sees himself as the best for the job. There is nothing special about his job. Take out the special and he remains an ordinary prosecutor like the policeman", he stated.

He is also worried about his arrogant posture at the vetting but nonetheless said he knows what he is about when it comes to issues pertaining to the law.

"I know Amidu will start displaying his arrogance and will start having issues with his team so I can tell you on authority that he may even be forced to resign within 6 months of office", he revealed.
Mr. Amidu, is a man who has earned the nickname 'Citizen Vigilante' for his no-nonsense stance and campaign against corruption, particularly in his own party National Democratic Congress (NDC) administration.



The Office of the Special Prosecutor will have the mandate to investigate and prosecute cases of alleged corruption under the Public Procurement Act 203 Act 63 and other corruption-related offenses implicating public officers, political office holders and their accomplices in the public sector.