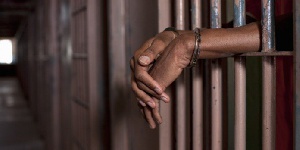 Sun, 7 May 2023 Source: GNA
An Accra Circuit Court has sentenced a 56-year-old mason to 24 years imprisonment for having sex with his 12 year old daughter twice.
Joseph Amon Neequaye is said to have had sex with his daughter after assisting her to do her homework.

Accused in open court denied having sex with his daughter on five occasions.

According to him, he had sex with his daughter twice, adding, on the first occasion, the victim came and slept by him and he ended up defiling her.

On the occasion, Neequaye said it was the victim who put her breast in his mouth and he ended up defilng her.

Neequaye, charged with defilement and incest pleaded guilty and he convicted on his plea.

Neequaye pleaded with the court to forgive him and have mercy on him.
The court presided over by Christina Cann held that cases of defilement are on the ascendancy, and the accused ought to be given a deterrent sentence although he did not waste the court's time.

Prosecution led by Superintendent of Police, Agnes Boafo said the complainant was a trader residing at Dansoman, Accra together with the victim.

Prosecution said the victim's mother had passed on and she was therefore residing with her grandmother.

It said accused, now convict was the victim's biological father. The convict also reside at Mpoase in Dansoman, Accra.

Prosecution said the victim had been going to her father to collect money for school.

It said from January 2023 to April 2023, Neequaye took advantage of the victim by defiling her on five occasions in his room at Mpoase.
Prosecution said about three weeks ago, the complainant had information to the effect that Neequaye has been having sex with the victim.

It said based on that information, the complainant quizzed the victim and she confirmed the sexual encounters she had had with her father.

Prosecution said the complainant and other witnesses confronted the convict and he admitted that offence and pleaded with them.

On April 25, 2023, a report was made to the Domestic Violence and Victims' Support Unit of the Ghana Police Service, Dansoman and a medical form was issued to the complainant to seek medical care for the victim.

Prosecution said on May 2, 2023, Neequaye was picked up and in his investigation caution statement, he admitted having sex with the victim twice.
Source: GNA