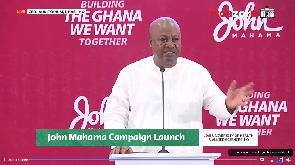 Former President seeking to be flagbearer of the opposition National Democratic Congress (NDC), John Dramani Mahama has described as worrying the mass exodus of active workers and professionals.
According to reports, nearly 150 experienced nurses and other health professionals from the Pantang Hospital have left the shores of the country in search of greener pastures in the last six years.

Of the total, 100 are specialized psychiatric and general nurses, while the rest consist of doctors, pharmacists, technicians, and other experienced personnel in the healthcare delivery chain.

Data sourced from the hospital showed that the number of experienced professionals that have abandoned their jobs has started increasing in an alarming manner since the outbreak of the coronavirus (COVID-19) pandemic.

This phenomenon is defeating the efforts of the government to reinforce the workforce of the hospital with the recruitment of an additional 179 staff (professional nurses numbering 129) between 2018 and 2022.

An assessment of the data showed that, from a report of eight professionals leaving in 2018, the number gradually jumped to 26 personnel in 2020 and peaked at 64 practitioners resigning in 2022.

The situation became more alarming when 11 experienced professionals, made up of 10 nurses and one doctor, resigned in January this year alone.
Speaking at the launch of his campaign which was held on Thursday, March 2, 2023 at the University of Health and Allied Sciences, Ho (UHAS), Mr Mahama said the lost of all hope that anything good can come out of this country or any available opportunity will be equitably shared amongst the youth is what has accounted for this.

He said the professionals who fled the country cannot be blamed after years of struggling and gaining education and they are condemned to unemployment and acute lack of opportunities in their own country.

He was of the view that if care is not taken, the educated youth will grow to their pension age and the only form of employment they might have had is national service.

"If not remedied through our agenda to build the Ghana we want together from 2025, some of our young graduate and post graduate degree holders may hit the pension age yet never find employment in their entire lives except for national service. It should worry us deeply, that the average young Ghanaian will grasp any opportunity to flee the despondent climate under which we currently live in favour of even the most menial jobs in other countries," he said.

Mr Mahama continued that,"We have always had a tradition of our people going out in search of greener pastures abroad, but the current mass exodus of active workers and professionals is profoundly worrying. The loss of all hope that anything good can come out of this country or any available opportunity will be equitably shared amongst our people is what accounts for this."