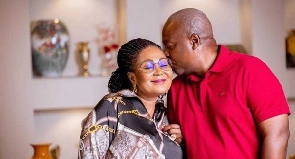 The wife of former President John Mahama, Lordina Mahama has, on the occasion of the 31st reaffirmed her love for her husband, and sought the face of God in strengthening and their bond and marriage.
The former First Lady and Founder of the Lordina Foundation shared a picture of herself and her husband, John Mahama with the caption: "Happy Anniversary John, the love of my life and the father of my children. May God strengthen our bond and union. Love you so much, my dear."

Mrs Lordina Mahama and John Mahama, whose marriage has produced five children – Shafik, Shahid, Sharaf, Jesse and Farida – do not shy away from expressing their deep affection for each other publicly.
The couple hit the trends last year when they posted beautiful pictures and love messages on the occasion of their 30th marriage anniversary.