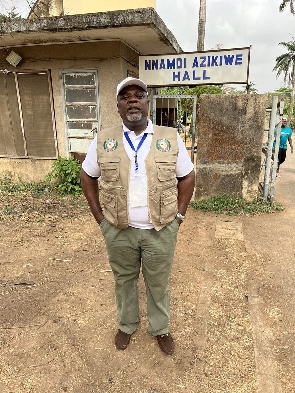 The founder and Chief Executive Officer of the Atta Mills Institute is proposing strict measures to prevent media houses and political parties from calling the results of our elections ahead of the Electoral Commission (EC).
Koku Anyidoho says Ghana must learn from Nigeria's example and allow the EC to be the only body to declare or call an election.

He was speaking on his observation as an ECOWAS election observer from the just-ended general elections in Nigeria.

He said in Nigeria, it is a criminal offence for any media house to call an election ahead of the Independent Electoral Commission (INEC).

He was speaking with Kwabena Agyapong on Frontline on Rainbow Radio 87.5Fm.

"One very interesting thing I discovered about the Nigeria electoral process that I believe as a policy think tank we should discuss as a country is that according to Nigerian electoral laws, it must only take the INEC to declare the results. Ghana should follow suit and allow only our EC to declare results".

"If we have all agreed that when it comes to a very important issue like an election and the tension it creates, why should we sit down and allow political parties, individuals, and, with all due respect, media houses to call results?
"Why should we let the media call the results before the EC? Some political parties declare themselves winners. When the EC issues an official declaration of the results, people will begin to contest them."

He said although these media houses call the results and do not declare them, the calling of the results is just a euphemism for declaration.

"Meanwhile, you have no constitutional mandate to call the results. The EC is the only body that is mandated to declare the results. So why don't we wait for the EC to declare the results but for the media and political parties to call the results and declare ourselves winners?"

He added "we must all agree as a country that from 2024 going- and the Atta Mills Institute as public policy advocacy think tank we'll see how we champion this narrative, and I know Rainbow Radio would be of help- let us agree as a nation that if it is the EC legally and constitutionally mandated to organize an election, let us allow the EC to make the declaration then we can all have the discussion.

"But to go ahead of the EC and call the results, we would not be able to deal with the outcomes," he stressed.