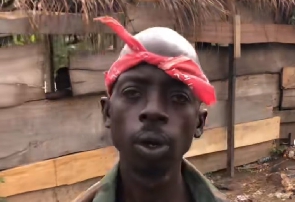 Social media sensation and TikToker, Ahoufe, passed away on Thursday, March 30, 2023, according to reports.
Netizens and fans were in disbelief as the deceased had earlier gone live on TikTok to interact with his followers.

Amid the brouhaha and confusion on social media, Gossips24 Avenue spoke to his manager who confirmed the report of his passing.

According to him, Ahoufe was rushed to the Tech Hospital in Kumasi but unfortunately could not survive.

The popular TikToker had a huge following on social media. He was famed for his viral comic videos.
RIP Ahoufe ???????? legends never die pic.twitter.com/FzNXZavnDb

— ???????????? (@connformist) March 30, 2023
Breaking News : Ghana's Tupac Shakur ahoufe Abrantie dies at 31

Rest in peace ✌️@SnoopDogg @Akon @50cent @TheGhanaWeb @KwakwaWrites @SeniormanLayla @Nuru_Khalif @shattawalegh @ponobiom @djkhaled @djblack pic.twitter.com/UBG7wcqKpr

— Gods time is the best ???????? (@osmosisakakpo) March 30, 2023
Ahoufe was 1Pac instead of 2Pac, made me laugh eerytime. Rest well Beauty pic.twitter.com/mRXAacr5vp

— WithAlvin (@withAlvin__) March 30, 2023
As Chelsea Fans reports from the West of Africa says that we have lost our fellow fan, top guy, TikTok star, comedian, African Tupac Shakur.

RIP Ahoufe. I was a big fan pic.twitter.com/xh91gImjo5

— 404 (@1960dude) March 30, 2023
Popular Ghanaian TikToker Ahoufe has passed away ???? RIP ???? pic.twitter.com/KI5oTs379r

— Peché Africa ???????? (@pmcafrica) March 30, 2023
TikTok star Ahoufe is reported dead after a short illness. pic.twitter.com/G3K8IwhDfS

— EDHUB????ℹ (@eddie_wrt) March 30, 2023
Rest well Broda ???????????? ???? … we will miss you Ahoufe ???????? pic.twitter.com/b5GrONdkVx

— King Of Melodies Ep (@KwekuFlick) March 30, 2023
It is alleged that one of Ghana's entertained tiktoker Ahuofe is reportedly dead ????????. But this video was posted yesterday in less than 24hours. The question is what happened. May his soul rest in peace #ahoufe pic.twitter.com/cdA2x8wZy3

— Lizzyocansey (@lizzyocansey) March 30, 2023
My Favorite. Rest in Peace ???? #2pac #Ahoufe pic.twitter.com/mJ2pWLG2J4

— Ugos231???? (@Ugos231) March 30, 2023
The Ahoufe guy en matter be sad ooo herrr. RIP???? pic.twitter.com/SYdO2R7qcR

— Twilight (@the_marcoli_boy) March 30, 2023
You can also watch some of our programmes below.