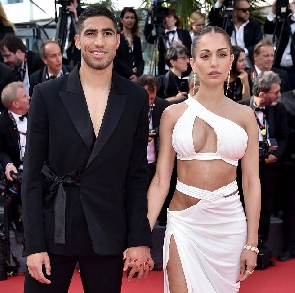 Ghanaian event organizer, Van Calebs has urged men to pick lessons from the ongoing divorce battle between Moroccan footballer, Achraf Hakimi and his wife, Hiba Abouk.
Achraf Hakimi has been trending on various social media platforms since Thursday, April 13, 2023, with issues regarding his divorce case with his wife Hiba Abouk.

According to multiple reports, Hiba Abouk filed for divorce and demanded half of Achraf Hakimi's properties in March 2023.

However, according to unconfirmed reports on social media, Hiba Abouk found out during a court proceeding that her millionaire husband owns nothing because all his properties have been registered in his mother's name.

Reacting to the viral social media claims, Van Calebs urged men to take cues from the craftiness of Achraf Hakimi.
He bemoaned what he perceives to be a bias in the law that favors women and called on all men to find ways of going about the system.

He however urged his fellow men to be responsible and committed in their marriage so as to avoid situations where their partners will be unhappy.

According to him, men must play their dutiful role in relationships and also be on the lookout for ladies who would want to fleece them of their resources.

"This Hakimi story is something we must all learn from. Men must be careful with the ladies we pick cos some of them are only after the case. We must find ways of beating ladies with such a mindset but first and foremost as men, we must do well to cater for our family members. Lets honor our promises to our partners", he said.