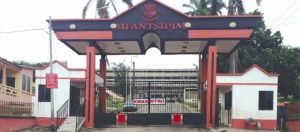 The Director, Faculty of Academic Affairs & Research, at the Kofi Annan International Peace-Keeping Centre (KAIPC) Dr Kwesi Aning has revealed that he nearly gave up his current job to enable him take up the position of Headmaster of Mfantsipim Senior High School.
According to him, his intended move, was motivated by his strong desire to get the school back to its former glory days.

Mfanstipim Senior High School located in Cape Coast in the Central Region was founded in 1905 by John Mensah Sarbah, and its known to be one of the best second cycle schools in the country producing several important personalities serving in various capacities in Ghana and abroad.

The school was Winners of the 1999 and 2014 editions of the National Science and Maths quiz.
But speaking to Bola Ray on Starr Chat on Starr FM, Dr Aning who's an alumnus of the Mfantsipim believes the school's high standard that it's been noted for over the years has sunk to an all time low, adding that there's the need to whip it up immediately.

"The schoool needs origional thinking about transformation. You know I nearly stopped my job and compete for the headmastership of Mfantsiman I think about a year and a half or two years ago. Because I thought I could bring back the glory and bring an international side to it in terms of pairing them to a lot of private schools. But there were all these obtuse…are you a Methodist, have you been baptised? and I just said to myself what has baptism got to do with an effective headmaster, reciting the whole Bible verses does not make you a good leader. But of course most of my MOBA 80 year group told me, Kwesi, with this your mouth you won't survive."

Dr Kwesi Aning was however hopeful that with his mate being the assistant headmaster of the school, things will turn round for the better and Mfantsepim will go back to its glorious days.