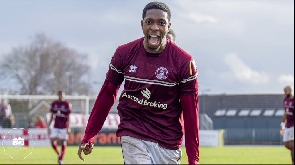 Ghanaian striker Michael Folivi has been named in the Team of the Week for the English South Conference League after scoring a brace in his team's win over Parnboruogh on Good Friday.
The Chelmsford FC forward was also awarded the Man of the Match for his impressive performance.

Folivi scored a stunning goal in his team's 3-2 victory over Farnborough FC in the Vanarama Southern League, which is a lower-tier league in England. His goal was an instinctive finish that demonstrated his quality and ability to score important goals for his team.
The 25-year-old has been in good form for Chelmsford FC this season and has been a key player in their push for promotion. His performances have caught the eye of many and this latest recognition is a testament to his hard work and dedication.

Folivi has previously played for a number of English clubs including Watford and AFC Wimbledon.