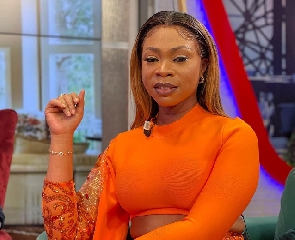 Michy, the baby mama of Shatta Wale has said the only conversation she would have with the Dancehall musician would be about their child and "nothing else".
In an interview on Adom TV's Showtime with Andy Dosty, Michy who has a son with Shatta Wale said she is up for a mature conversation that would centre on the child's wellbeing.

"I've been in conversations with him. The focus should be on the child but I have not seen that. It's not about me and him (Shatta); it's about the child and that's all I want to talk about. What happened, who said what, who did what is needless," she said.

Michy denied Shatta Wale's claim that he had been prevented from seeing their son saying: "When it comes to seeing the boy, you (Shatta) haven't made that effort. I on the other side am taking everything cool. It is one of those things. I am not preventing him. He knows my house and phone numbers, I heard him say that I blocked his calls but my other number is online."

She blamed Shatta Wale for his inability to see their son. According to her, the musician has failed to have a proper and mature conversation.

She said: "My son hasn't shown any sign of missing his father (Shatta Wale). We don't have discussions and so I cannot tell. My son is quite satisfied in life and I don't think he has a reason to look for that, you know. Proper communication is what's stopping him from seeing his son. Matured communication is what he's lacking, there is more to do on that side."

Michy and Shatta broke up in 2019. Although no reason was given, some have cited abuse as the basis for the split.
In January 2023, Shatta Wale suggested on Snapchat that he had been denied access to their son.

"I like how Michy is being frank with her experience out there, but someone should tell her I have not seen Majesty for years, and that's not cool. I also want to buy my son some toys and trainers," his post read.

Reacting to the post at the time, Michy said: "Social media parenting. I didn't know I had lions guarding my lil man."





BB