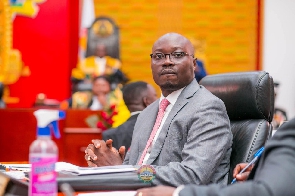 This year's mid-year budget review, which the Finance Minister is expected to present to parliament before the end of June, must be one that restores hope toward economic recovery, the Minority Leader of Parliament, Dr. Cassiel Ato Forson, has expressed.
"The most important matter of concern to us is the state of our economy and the fact that the government has announced an International Monetary Fund (IMF) programme and concluded same.

"It is our prayer that the mid-year review will address the issue of misery in the economy and be one that restores hope—a mid-year review that will put the country back on the path to economic recovery and unite all of us," Dr. Forson stated during a media encounter between the leadership of parliament and media.

He insisted that the review must proffer practical steps to restore stability, particularly on the back of the US$3 billion IMF deal's approval and subsequent disbursement of US$600 million.

He further indicated that this year's mid-year budget review should tell Ghanaians whether the economy is on a recovery path or will continue to deteriorate.

"We have a budget that is insufficient, yet government's lifestyle does not correspond to the financial constraints we face as a country," the Ajumako/Enyan/Esiam MP added.
Meanwhile, speaking on the IMF facility, Majority Leader of Parliament Osei Kyei-Mensah-Bonsu opined that even though the US$3 billion, which will be spread over three years, on face value is not enough for the country's expenditure, its significance is enormous.

"The significance of it is that it gives confirmation by the IMF and World Bank that you are on a good trajectory – and that also serves to unlock other funds from the bilateral engagements you have, and the IMF and World Bank then come in as guarantors for your own sustenance; and that is the import of it.

"That notwithstanding, we should also ensure that what comes into the national kitty is utilised in fulfillment of our own promises and pledges so that we are able to keep ourselves on track," he added.

According to him, the government will have to cut down its expenditure as part of the IMF conditionality in a manner that will negatively impact employment and infrastructural development.

"I think that at the heart of these discussions with the IMF, two things stand out: cut down expenditure and increase domestic revenue. This will require some careful balance, but we will get there with the mid-year review. And when it comes, I believe parliament will come together and offer useful suggestions as to the better ways for us in this endeavour to provide that dose of resurgence to the economy."