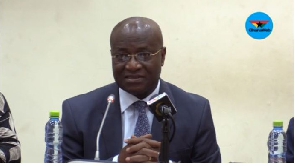 Both the Minority and Majority Leaders in Parliament have dismissed calls for the Speaker of Parliament Professor Aaron Mike Oquaye to apologise to journalists over his threat to revoke the accreditation of journalists.
The Speaker made the threats Wednesday after journalists abandoned the SONA debate to interview a minority MP.

The Speaker who was furious about the incident accused journalists in the parliament of abandoning the chamber during the debate to engage minority MPs who had abstained from the debate.

The Speaker has come under heavy criticism for his threats. But engaging the media on Thursday, the leadership of Parliament explained that the comments of the speaker were just friendly advice to the media to pay attention to happenings in the plenary.

Majority leader Osei Kyei-Mensah-Bonsu who raised the matter on the floor to prompt the directive from the speaker for the media to stay away from covering other activities when sitting is in session explained the directive is not binding on journalists.

Minority Leader Haruna Iddrisu assured that the NDC will not be a party to any attempt to stifle media freedom in the legislature. The Tamale South MP argued that the speaker does not intend to gag the media.

There have been demands for the speaker to retract his directive and apologize to the media and Ghanaians.
But both Haruna and Kyei-Mensah-Bonsu disagree. According to them, such a demand is a little too far.



"I want to believe that growing up whenever you did something that your father considered irresponsible and scolded you, you demanded an apology from your father. I am really flabbergasted by this attitude because I have taken pains to explain to you what really transpired.

"For you to tell him to apologise to you for telling you the rules of the game that we will subscribe to…for saying that we owe you an apology…respectfully I don't owe you an apology," Osei Kyei Mensah Bonsu told Starr FM's Parliamentary correspondent Ibrahim Alhassan.