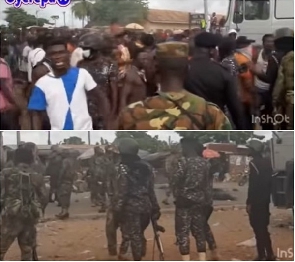 The Ghana Armed Forces reportedly deployed its personnel to Obuasi on Tuesday, May 30, 2023, over the commotion surrounding reports of illegal miners being trapped in a mine shaft belonging to AngloGold.
It is not clear why the military personnel were deployed but a video shared by Kumasi-based Oyerepa TV showed them trying to control an aggrieved crowd of people.

The army personnel arrived in some of their military vehicles and they were more than fifty in number.

They started firing warning shots after some residents started pelting stones at them.

The personnel could also be seen preventing some youth in civilian clothing from working towards certain directions.

There has been tension in Obuasi following news of over 300 illegal miners have been trapped in a mine shaft belonging to multinational mining giant AngloGold.
The incident according to a Citinewsroom.com report occurred at AngloGold's Obuasi Mines at Anwiam in the Obuasi East District of the Ashanti Region.

The miners are said to have entered the underground shaft in search of gold deposits but have been trapped because all exit routes were subsequently shut.

One of the illegal miners, Ali Tijani who spoke to Citi News said some of his colleagues are unconscious as they have run out of food and water, the Citi News report stated.

Relations of the trapped minister, including their wives, on Tuesday, besieged the site where the illegal miners were supposed trapped carrying for them to be rescued.

Meanwhile, the management of AngloGold has refuted claims that some persons have been trapped in a mine belonging to them.
In a statement dated Tuesday, May 30, 2023, and signed by the Managing Director, Eric Asubonteng, he explained that the claims cannot be true because the exit ramp from the mine remains open.

He added that in the case that anybody was trapped in their mine, they can exit on foot via the existing ramp, a report by graphic.com.gh said.

Eric Asubonten, however, explained that some seven illegal miners who were in their mines yesterday walked out on foot and are in the custody of the police.

Watch a video of the military person deployed to Obuasi below:


Meanwhile, watch a snippet of GhanaWeb TV's latest program that focuses mainly on Everyday People below:





You can also watch the latest episode of People & Places on GhanaWeb TV:




IB/OGB