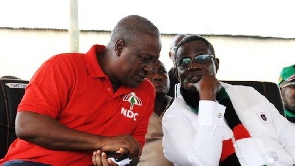 The Deputy Director of Communications for the governing New Patriotic Party (NPP), Ernest Kofi Owusu Bempah-Bonsu, is questioning the whereabouts of the CCTV installed at the Christianburg Castle, might have been tampered with, prior to the death President John Evans Atta Mills.
According to Mr. Bempah-Bonsu, there is more to the mysterious death of the late former president, which demands a thorough investigation.

John Evans Atta Mills died suddenly while in office on July 24, 2012, shortly after his return to Ghana from the US for medical care. Days later taking over office, John Mahama relocated the Presidency from the Christianburg Castle in Osu, to the Flagstaff House, which is the current seat of government.

After more than a decade of his demise, some persons continue to ask what may have caused his death although his family claims they are aware of what killed him.

A former Deputy General Secretary of the National Democratic Congress (NDC), Koku Anyidoho, who was the late President's Communications Director, is one of such persons leading the call for a public inquiry into Mill's death.

However, the NPP's Deputy Communications Director, while speaking on Angel 102.9FM and Angel TV's Anɔpa Bɔfoɔ morning show on Wednesday, April 19, 2023, believes John Mahama who was then the Vice President, should be compelled to respond to certain questions.
Ernest Kofi Owusu Bempah-Bonsu is certain that answers to some of these questions would be key to finding out what killed the President.

According, to him, the NPP will in the coming weeks, "unmask the hidden secret of the Atta Mills' death as a way to prevent such unfortunate incident from happening in the future."

"Till date, the whereabouts of those CCTV devices are yet to traced" he claimed, daring "anybody who has information on the whereabouts of the camaras and recorders to come and tell us".

"Where is the cobbler [the young man who used to clean the shoes of Atta Mills at the castle]?

"So, there are hidden truths pending to be exposed in the coming weeks…things will be unraveled soon" he stated.