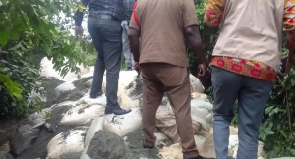 The Shama District Security Council, in collaboration with the Minerals Commission, has uncovered ammonium substances within the Anto Aboso quarry enclave, raising serious safety concerns for both workers and the local communities in the district.
This quarry enclave, which houses approximately six quarry sites, has prompted questions about the handling and storage of hazardous materials in the area.

The Minerals Commission, responsible for regulating such substances, emphasizes that only companies with the necessary permits should store such harmful materials in designated areas known as magazines.

Ebenezer Dadzie, the Shama District Chief Executive, addressed reporters at the site and disclosed that intelligence led to the discovery of ammonium substances buried within quarry dust in the surrounding bushes.

He expressed deep concern over the safety of the neighboring communities and the recurring fears voiced by residents.

This concern compelled the assembly to take action to eliminate these hazardous substances, thus preventing potential accidents and avoidable loss of lives, he added.
The District Chief Executive urged local communities to actively participate in ensuring their safety by reporting any suspicious activities conducted by operators in the area to the city authorities.

"We believe, as citizens, we should begin to be active in watching our communities and societies... when we see something, we should say something," citnewsroom.com quoted the DCE as having said.

He further advised all quarry operators within the district to voluntarily surrender any such substances in their possession to the assembly for subsequent transfer to the Minerals Commission.

The discovery of these hazardous substances highlights regulatory inefficiencies, the importance of civic responsibility in addressing issues at their inception, and the public health implications of storing such dangerous explosives within the storehouses of quarry mining companies in the region, he added.

It is worth noting that recently, a tragic explosion occurred at the Omni quarry site at Anto Aboso in the Shama District of the Western Region.
This explosion resulted in numerous injuries, including five fatalities.

Both Ghanaian and Chinese nationals were among those injured in the incident, which took place around 22:30 hours on Saturday.

Watch the launch of the 2023 GhanaWeb Excellence Awards on GhanaWeb TV below:




Click here to start the nomination process for the 2023 GhanaWeb Excellence Awards

Ghana's leading digital news platform, GhanaWeb, in conjunction with the Korle-Bu Teaching Hospital, is embarking on an aggressive campaign which is geared towards ensuring that parliament passes comprehensive legislation to guide organ harvesting, organ donation, and organ transplantation in the country.

NAY/EA