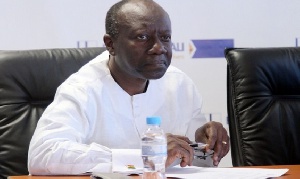 THE MINISTER of Finance, Ken Ofori-Atta, is seeking finality in the petition sent to the Commission on Human Rights and Administrative Justice (CHRAJ) on the $2.25 billion bond by a National Democratic Congress (NDC) activist.
Mr Ofori-Atta has charged CHRAJ to expedite action on the matter to establish whether or not he contravened any provision of the 1992 Constitution in the public offer of the $2.25 billion bond as being alleged by the opposition NDC.

He is therefore, requesting the Commission to come out with the findings of its investigation so as to bring a closure to the case as its foot-dragging is adversely affecting the country's economy.

A letter titled, "Re: Allegation of contravention or non-compliance with Article 284 of the 1992 Constitution by Mr Ken Ofori-Atta – A public officer: Request for comments," was said to have been delivered to the Commission for response.

The letter, written by a deputy Attorney General and Minister of Justice, Godfred Yeboah Dame, on behalf of the Minister of Finance, stated, "We refer to the answer dated May 31, 2017 filed on behalf of the Minister for Finance, Mr. Ken Ofori-Atta, by our office in response to your letter dated May 5, 2017.

"We hereby respectfully enquire from your outfit when we may expect a report on the matter, the outcome of your investigations. The subject matter of the petition holds consequences for the economy of Ghana. We would thus greatly appreciate it if an expedited determination is made of same," he pleaded with the Commission in a letter dated July 20, 2017.

It would be recalled that Brogya Genfi, NDC Youth Organiser for the Ashanti Region, and a failed parliamentary candidate for Suame had petitioned CHRAJ to investigate the bond, arguing that "Mr. Ofori-Atta promoted a personal interest for himself, as well as family and friends, which interfered with the objective exercise of his duties."
CHRAJ, after its preliminary valuation of the petition, asked the minister for his comments on the allegations.

The Commission further asked the minister to necessarily support his comments with any documents or information "within 10 days and, if you admit to the allegations, to state so expressly."

Mr Ken Ofori-Atta, on May 31, 2017, responded to the queries of the Commission. He asked CHRAJ in a 15-page letter to dismiss the petition filed by Yaw Brogya Genfi.

His reply indicated, "There is no evidence of any act or omission on the part of either the Ministry or the Minister supporting an allegation of participation in a business transaction or activity for the benefit of friends or family.

"Neither did the personal interests of either the Ministry of Finance or the Minister of Finance interfere with the performance of their duties and functions."

Since the minister presented his comments to CHRAJ, the investigative body is yet to come out with its findings on the matter, leaving room for speculations.