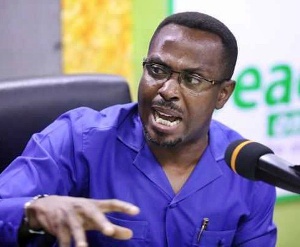 Former Central Regional Minister Kwamena Duncan has asserted that during the secret ballot of Parliamentarians to approve President Akufo-Addo's ministerial nominees, some of the lawmakers took pictures and videos of their ballot due to a lack of faith in the minority caucus.
Kwamena Duncan contends that the said MPs consented to keep the evidence as proof of their innocence and loyalty to the party because there is no trust among them as a minority.

Speaking on a panel discussion on Peace FM's 'Kokrokoo' on March 28, 2023, he explained: "I asked myself what motivated those who took pictures of their ballot, what motivated them to do that, I'm asking what motivated them?

"Is because amongst them they knew there was no trust? They knew."

He continued by saying that the list of supposed traitor MPs that has been making rounds on various social media platforms was nothing more than the minority's method for ousting MPs they don't like.

"…this is just for one effect, it is just to get the constituents for those whose names are not there to vote against them, it is just a systematic agenda to remove those that they don't like," he added.
Prior to the vetting of ministerial nominees by the Appointments Committee of Parliament, the NDC had issued a directive to its MPs to reject the nominees in demand for a reduction in the size of the current government.

However, when the House conducted a secret ballot on the nominees, some minority MPs took footage of the voting process as evidence.

Eventually, all minister nominees got overwhelming votes despite the equal numbers on both sides of the House.

The outcome of the voting process has led to accusations of treachery being made against the minority MPs.

Some members of the caucus have since taken to social media to express their disappointment with the result while others have sought to claim their innocence.
Watch Moans & Cuddles below:





AM/SARA