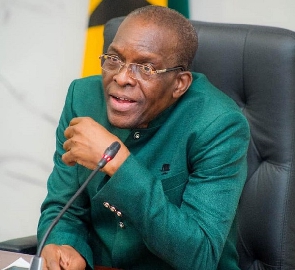 The speaker of parliament has indicated that courage cannot be the bases of which a minister of state or deputy minister is appointed to serve for the country.
According to him, there are very important factors that are considered for one to be appointed in governance leadership.

His comment comes after the deputy minority leader questioned Afenyo-Markin if he had held a ministerial or deputy ministerial position after the latter said he (Emmanual Armah Kofi-Buah) was not courageous and honourable.

Emmanuel Buah who had an exchange with Afenyo-Markin said; "…Afenyo-Markin will have the courage to tell me, honourable Kofi Buah, a four-term member of parliament who has worked 20 years in the cooperate world, who has served as deputy minister properly vetted, served as a minister of state that I don't have the courage. I am a courageous man that is why I served this country honourably. Have you ever been a deputy minister in this county since I have been here? You?" Emmanuel Armah Kofi Buah fumed.
In reaction to this, the speaker of parliament said "…we don't appoint deputy ministers, ministers of state based on their courage. So that one is not a good bases to say that because you serve as a deputy and minister for state you have courage. Courage is something else oo," Alban Bagbin said.

YNA/FNOQ