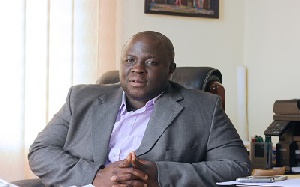 The Chief Executive Officer of Eclipse Microfinance, Mr Kafui Amegah, has applauded government for setting up the Ministry of Business Development saying it is one of the best ways to sustain Ghanaian businesses.
He said he believes the ministry must empower local businesses to showcase what they have because Ghanaians have what it takes to build the economy for the country to relive her glory days.

Speaking in an interview with The Finder, the award-winning CEO said as a business person, he has a lot of faith in the ministry because lots of businesses are going to come out of that ministry.

He also said the 2017 budget statement of the government will create the enabling environment for businesses to thrive in the country because it touched more on the financial sector and businessmen can take advantage of the situation.

"At the end of the day, if the financial sector is booming and businesses are growing, it is the common man that will benefit so if the measures put in place keeps rolling as expected, we should see a very good turn around," he added.

On his company's performance last year, Mr Kafui Amegah described the year as a difficult one because most of their targets were not met and the economy was not favourable for businesses.
He said Treasury Bills were higher and universal banks could not support the Small and Medium Enterprises (SMEs) while government was also borrowing from businesses.

He said cost of business operation was high coupled with the instability of power supply forcing microfinances to take risks.

He, however, said although the year was challenging, his management were able to put in place prudent measures which gave them two international awards.

He added that in 2017, they will reach to more SMEs and also support agricultural programmes and called on Ghanaians to have faith in the microfinance sector.