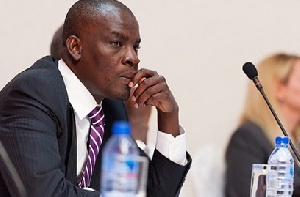 The Minority in Parliament on Tuesday called for a full-scale parliamentary inquiry into the recent US$2.25 billion bond issued by the NPP government.
According to them the transaction lacked transparency and had the potential of adversely affecting the welfare of the people of Ghana.

Mr Cassel Ato Forson, the Minority Spokesperson on Finance made the call at a Press conference organised by the group in reaction to Vice President Dr Mahamudu Bawumia's assessment of President Nana Akuffo Addo first hundred days in office.

According to him, the NPP in 2015 criticised the NDC heavily for borrowing US$1 billion Eurobond at a coupon rate of 10.75 percent for 15 years (with World Bank Guarantee) to replace a portion of the 2007 Sovereign bond and some domestic bonds.

The Ministry of Finance recently issued a statement announcing that the government had successfully issued 15 and 7 year bonds with the same coupon rate of 19.75 percent, raising a total amount of US$1.13 billion.

In addition, the Ministry of Finance raised the cedi equivalent of US$1.12billion in five and 10 year bonds through a tap arrangement.
Mr Forson also warned that if the government failed to setup the Parliamentary inquiry into the matter, the group would have no option but resort to using the conflict of interest jurisdiction of the Commission on Human Right and Administrative Justice (CHRAJ).

He said minority would exercise the option of filing a petition with the Financial Services Authority of the U.S.A to investigate Franklyn Templeton.

He said the minority had also pointed that the bond issue was clearly an international business transaction within the meaning of article 181 (5) of the Constitution and therefore expected that bond issuance would have been brought to Parliament for approval.

Mr Forson also stated that potential conflict of interest situation had arisen as a result of the relationship between Ken Ofori-Atta, the Finance Minister, who doubles as Director of Enterprise Insurance and Trevor G. Trefgame, a Board Director of Franklyn Templeton Limited and Chairman of Enterprise Group Limited.

He said the Franklyn Templeton Investment Limited recently participated in the purchase of almost 95 percent of the Government Domestic Bond, which the minority suspected was issued to favour his business partners.
He stated that the whole bond transaction was shrouded in secrecy to the extent that Ghanaian investors were denied the opportunity to participate in the deal. The bond was virtually participated by only two investors.

Mr Forson further questioned why a single investor, Franklyn Templeton, which is a non-resident investor that patronised both Domestic and Sovereign Bonds in the past, was allowed to purchase almost 95 percent of the latest Government Domestic Bond. The size of this virtual "private placement" made it akin to a sovereign bond or foreign loan.

He stated that Government Domestic Bond had a "Hybrid" (cedi/foreign) feature and therefore when non-resident investors bring in foreign currency at the time of purchase, they hold the equivalent cedi bond in the same implicit foreign currency.

He stated that in the past the "book building" approach for issuance of bonds the process was opened for a minimum of three days to ensure optional participation.

"However, in the case of the US$2.25 billion bond issue, the process was limited to one day, denying other market players the opportunity to participate in the process."