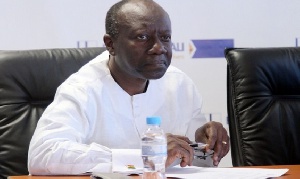 Ghana's poor showing in the issuance of the 2017 Energy bond has caused the state some 1.2 billion cedis, Ranking Member of the Finance Committee, Cassiel Ato Forson has said.
Mr Forson, who led the Minority to address a press conference on Wednesday, 8 November, said the abysmal showing is a vote of no confidence in the Akufo Addo-led government among the investor community.

The country failed to achieve its target of raising some revenue from the bond despite an extensive road show.

Mr Forson accused government of failing to seek parliamentary approval before the issuance saying they will haul Finance Minister Ken Ofori-Atta before the House soon for causing financial loss.
"The government could have saved up to 200 basis points if they had gone to the financial market on the strength of Government of Ghana ratings, rather than the ESLA PLC which is unrated and unknown. Simply put, the state could have saved 2% of 6 billion cedis times 10years, which is an equivalent of 1.2 billion cedis over the period. The government delegation has woefully caused financial loss to the state as a result of this gross incompetence," he explained.

"We intend to summon the minister responsible for finance to appear before parliament to answer to the circumstances that led to the willful breaches of the laws and constitution of the Republic of Ghana through this reckless conduct. Such gross disrespect for the constitution and parliament will have no place in our current democratic dispensation where actors like the Finance Minister arrogate to themselves the status of 12th century despots," he added.