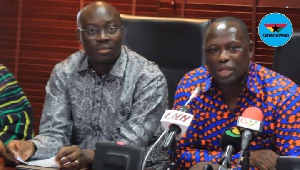 The call by the Minority in Parliament that the Managing Director of the Bulk Oil Storage and Transportation Company Limited (BOST), Alfred Obeng Boateng, should be interdicted over some wrongdoing is "baseless" and a political agenda to distract him from his quest to deal with the rot he inherited at the company, BOST has said in a press statement.
The Minority in Parliament is demanding the "immediate interdiction" of the MD over a "bizarre" and "dubious" contract awarded to Movenpiina Company Limited to distribute the five million litres of contaminated oil onto the market.

At a press conference, the Minority called for a full-scale investigation by the regulatory authorities into the "corrupt" deal.

The Minority also demanded the "immediate withdrawal of the contaminated product from the market to protect consumers and assurances that this will not recur."

The Minority also said the financial loss from the deal, which they estimated at GHS14.25million, must be retrieved by "surcharging the offending officials at BOST in line with a recent Supreme Court decision".

But BOST, in a statement issued on Tuesday, June 27, said: "It has come to our attention some serious allegations levelled against BOST and its Managing Director over the sale of an off-spec product onto the Ghanaian market. The management of BOST wants to respond to these allegations and explain the status of the sale of the off-spec product alleged to have found its way to the pump stations.
"It should be put on record that BOST has not imported any shipload of off-spec products into its installations. This off-spec product is as a result of an accidental mixture of petrol and diesel that occurred on the 18th of January, 2017 during the receipt of product into the BOST depot at Tema before the managing director took over from his predecessor on the 23rd of January, 2017. The staff involved were sanctioned appropriately.

"We want to highlight that these issues are coming up due to the fact that Mr Alfred Obeng is cleaning the rot of his predecessor. That includes:

"Diverting GHS40.5million of company funds to a fictitious account currently under investigation; awarding an overpriced contract of $39 million to construct the BOST head office complex (suspended by the new MD); awarding an overpriced contract of $19million to construct a pipeline from SSDP to Akosombo (suspended by the new MD); [paying] an amount of $1.8million as a retainer fee for a company sourcing funds for BOST projects. Though the company could not source funds for BOST, an additional amount of $89,000 was paid as success fee on the 27th of September, 2016.

"The minority's assertions that the MD of BOST should be interdicted is baseless and unfounded. It is a political plan to divert the new MD's attention from dealing with the rot of his predecessor, Mr Kingsley Kwame Awuah Darko, which has left BOST with a debt close to $300,000,000. No amount of propaganda against Mr Alfred Obeng will change his vision for BOST."