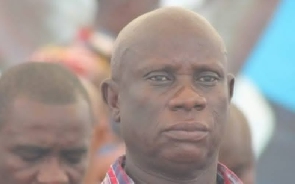 Former deputy general secretary of the New Patriotic Party (NPP), Nana Obiri Boahen, has said that the military and police must be deployed to Parliament on February 7, 2023, when the House resumes its sittings.
According to him, it is likely there will be chaos in the House because of the change in the leadership of the minority caucus.

Speaking in a Neat FM interview monitored by GhanaWeb, Obiri Boahen added that there might be chaos because some of the leaders who have changed have not indicated that they are stepping down and their supporters are running riot.

"… soldiers must be sent to Parliament when the House resumes on the 7th. The number of police and soldiers sent there should be like deployment for a war… Supporters of Haruna Iddrisu and Muntaka are very adamant that they are still the leaders of the minority and are determined to cause trouble if there are attempts to replace them.

"Something is going to happen when parliament resumes on the 7th (of February). Because the supporters of Haruna Iddrisu will not agree for someone else to be in his chair and Ato Forson is also determined to take the position of majority leader.

"I not happy about this… but some African politicians learn history but don't learn from the lessons of history. The Swedru declaration led to the NDC losing power and the NPP coming to power. And this reshuffle done by the NDC will either make or break them," he said in Twi.

Meanwhile, the National Executive of the National Democratic Congress (NDC) is expected to meet the party's Members of Parliament (MPs) on the appointment of their new leadership, on Tuesday, January 31, 2023.
According to the General Secretary of the National Democratic Congress (NDC), Fifi Kwetey, the executives will be meeting with the minority caucus to explain their decision, after which a confirmation of the new parliamentary leadership will be made.

The change in the leadership of the minority caucus of Parliament has led to some confusion in the NDC, with some members of the party, including some Members of Parliament, saying that the party's parliamentarians should have been consulted before the move.

The NDC leadership has appointed the former Deputy Minister of Finance, Dr. Cassiel Ato Forson, as the minority leader in the 8th Parliament of Ghana's Fourth Republic. He replaced the MP for Tamale South, Haruna Iddrisu.

According to the NDC, Kofi Armah Buah, MP for Ellembele, will take over as the Deputy Minority Leader.

While Kwame Governs Agbodza, MP for Adaklu, will replace Asawase MP Muntaka Mohammed as the Chief Whip.

Ahmed Ibrahim, MP for Banda, has been maintained as the First Deputy Minority Whip, while Comfort Doyo Cudjoe-Ghansah, MP for Ada, is the Second Deputy Minority Whip.
Some MPs of the party have petitioned its National Executive Committee (NEC) to suspend the appointment of the new leadership of the party in Parliament.

The NDC MPs, including Mohammed Mubarak Muntaka (MP for Asawase), Dominic Ayine (MP for Bolgatanga East), and Cletus Avoka (MP for Zebilla), who are calling for the suspension, argue that the appointment was not made by any of the party's decision-making structures but was imposed by just a few people.

Watch the interview below:



IB/BOG