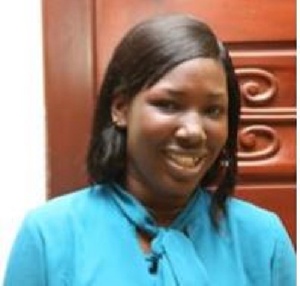 Sagnarigu MP A.B.A Fuseini has praised presidential staffer Napaga Tia Sulemana for calling out Deputy Minister of Agriculture William Quaittoo and demanding his resignation after he described people of northern extraction as "liars" and "difficult" people.
Ms. Tia Sulemana, who is also a northerner, described Mr Quaittoo's comments as "painful".

Despite Mr Quaittoo's apology after the comments, the presidential staffer took to Facebook to express her pain over the matter, saying the MP's apology was not enough.

Below is her full post

So, here I am in bed, just struggling with myself to understand why on earth a deputy minister of state will look at the people who hosted him almost all his life(27yrs) according to him, in the face and tell us we are difficult people and also that we lie to extort money from government. I am very sure this was said without any evidence.

My name is Napaga, a pure Dagomba royal (both parents). I was born, raised and educated in the northern part of Ghana with most of my education undertaken in Tamale.
I can say on authority that Dagomba are the most hospitable people I have encountered in my life. We might be coming from one of the poorest and most deprived areas in Ghana, but that doesn't mean we don't have dignity or integrity.

We are very "proud" people who respect ourselves and others so well, irrespective of where you come from. We are one disciplined group of people who tread cautiously in our own space. You can confirm this from most southerners who have taken the Northern Region as their homes.

We might not be rich as other regions but trust me, we are not hungry people.

For several years, we have done mainly subsistent farming and have fed ourselves on it without much government intervention. Same subsistent farming has brought most educated northerners where we find ourselves today.

Therefore, I find it very difficult that someone wakes up one morning and decides to label all of us liars and difficult people. Kaman how!!
Dagombas just like other tribes and humans surely will have some bad nuts but not a basis to label us all as difficult and liars. We might appear to be one defenseless, small, distorted poor tribe but we can be very loud if you want to take us for a ride.

We surely will 'fight back' if you disrespect us.

My dear Hon, we being as hospitable as we are, took you in and fed you for 27 years (I am sure you would have done more years if you had the chance to) and today you are biting same fingers that fed you.

How interesting!

A mere apology is not what we are demanding but more. It is tribalistic statements like these from the very few ones like you that make life very difficult for the NPP in the north.
Dagombas are Northerners, Ghanaians and are humans as well, who also have blood running through our veins. We deserve far better from your likes. It's indeed painful. Those sitting unconcerned and making it look like it's a small issue we are blowing out of proportion, today it's about the Dagombas, tomorrow it might be you. When your neighbour's house is on fire and you sit unconcerned, remember you might be next. We are one people and one.

A Dagomba girl feeling pained.

Napaga Tia Sulemana

Commending the various northern groups and individuals who mounted pressure on the Minister to resign, A.B.A Fuseini told Francis Abban on Accra-based Starr FM that: "I am happy that this one was not a matter of NDC-NPP football that people used to play. This is a matter that cut across, and a number of people, youth groups across the three regions in the north as well as even members of this government, and I've taken the opportunity to commend one of our daughters from the north, Napaga Tia Sulemana, she's done very well, she works at the Flagstaff House but in spite of that she did not let the political [affiliation] hamstring her and she came out to demand the resignation of this minister. I think this is what Ghana needs, that when something comes up and it's a national issue, we talk about it as Ghanaians and demand that the right thing must be done."