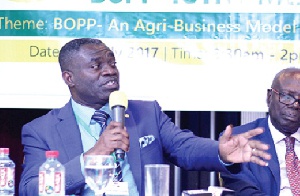 The Minority in Parliament which demanded that President Akufo-Addo sacks deputy Agriculture minister William Quaitoo over his tribal comment has welcomed his resignation.
Minority Spokesman on Communications A. B.A Fuseini told Starr News the move is a positive step.

"This is a positive step, and going forward we will see what comes out but at least this points to the fact that the abuses he rained on the people of the three Northern regions, he is paying the price for it. For us it's a signal to all in public office; when they are talking to people they will be very circumspect, decorous and eschew arrogance".

Meanwhile, the Dagomba youth and Tamale chiefs have also banned the deputy minister from visiting the area where he lived for 27 years. before he became an MP and a Deputy Minister.

Spokesperson for the Tamale Chief Abass Salifu welcomed his resignation with jubilation.
"When we heard the news of the resignation of the Deputy Agric Minister, people started jubilating. I called the Chief of Tamale and he said 'that serves him right, it will give warning to people who take the people of the North for granted'.

"So the people of the North especially our chief is very happy that the President has listened to the pressure of the Northerners and has given room for another competent and intelligent person to take that position for us to work with because the People of Northern Region for that matter Tamale, in particular, are not ready to see the Minister in their midst as a deputy Agric Minister".

President Akufo-Addo accepted M. Quaitto's resignation Tuesday night after a backlash over his outbursts against northerners.