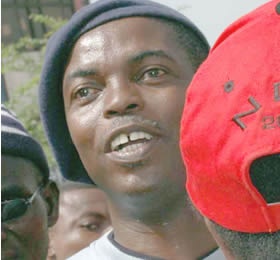 Sat, 2 Aug 2008 Source: Malik Abass Daabu
A leading member of the Committee for Joint Action (CJA) Mr. Kwesi Pratt says the ministers in the Kufuor administration are filling their pockets and instead of their brains.

He said while ordinary citizens needed small amounts of money to transform their lives, government ministers were stashing away huge sums of money to the disadvantage of the poor.


He was speaking on Radio Gold's "Alhaji and Alhaji" programme on Saturday, August 02, 2008.


Mr. Pratt said he spoke to a taxi driver in Accra who said he needed just GH¢ 300 to go to his village to farm.


According to the CJA member, that amount of money is what ministers spend on a day's lunch.


Mr. Pratt who was speaking on the controversial sale of GT 'flogged' Mr. Kwame Pianim, an economist who supported the sale.


"Some time when you listen to some of our big men who have some education and Mr Kwame Pianim has a lot of it, you feel like crying" he stated.

He said it was unfortunate that the respected economist supported a deal that will allow a multinational company to come and make profit in the country and take it to their countries.


He claimed the Kufuor administration had ran the country down and could not find solutions to the country's problems.


Mr. Pratt also challenged the flag-bearer of the New Patriotic Party (NPP), Nana Akufo-Addo to publicly state his position on the sale of GT.


He said although Mr Albert Kan-Dapaah had said somewhere that even Nana Akufo-Addo supports the sale, it was important to give the NPP flag-bearer the benefit of the doubt.


The Managing Editor of the Insight newspaper said it would be a mark of double standards for Nana Addo to support the deal.


He said Nana Addo cannot claim to believe in Ghana and yet not believe in the capacity of Ghanaian to resolve complex issues such as the management of GT.

"That claim is a sham", he noted.


He said the majority of Ghanaians were against the sale stressing the need for the government to listen.


"People are getting increasingly angry and will act in their massive character either now or later", Mr. Pratt pointed out.


He said even if the Kufuor administration succeeds in selling GT to Vodafone, Ghanaians will take it back.


"Vodafone ought to be careful in this transaction," he warned.

Source: Malik Abass Daabu