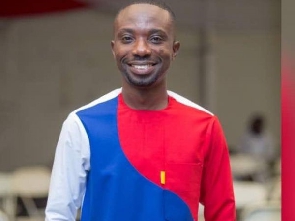 Presidential staffer Dennis Miracles Aboagye has argued that contrary to assertions by Member of Parliament (MP) for North Tongu Samuel Okudzeto that Rev Victor Kusi Boateng has two tax identification numbers(TINS), he( Rev Victor Kusi Boateng) has one TIN number, given that he has only one Ghana Card number.
Mr Okudzeto Ablakwa alleged that Rev Kusi Boateng has two TIN numbers registered and acquired with different biodata.

He wrote: "On the 13th of August, 2013 when he[ Rev Kusi Boateng] filled his Taxpayer Registration Form at the GRA under the name Victor Kusi Boateng with a date of birth of September 7, 1971; he declared that his mother's maiden last name is Ataah, and her first name is Agnes.

He was subsequently given a Taxpayer Identification Number for his Victor Kusi Boateng name as P0002502682.

Curiously, on the 24th of March, 2016 he returned to the GRA, this time with the name Kwabena Adu Gyamfi and a date of birth of December 30, 1969. He strangely declared a different biological mother with a maiden last name of Gyamfua and a first name of Yaa.

This is how he secured another TIN — P000627241X.
Interestingly, he declared on the forms that he is not a registered taxpayer even though he was and already had a TIN."

But Miracles Aboagye, who is in charge of the Inter-Ministerial Coordinating Committee on Decentralization (IMCC), argued otherwise, insisting that it isn't possible to have two TIN numbers:

"Sam Okudzeto Ablakwa Shares base forms completed in 2013 & 2016 of GRA. In the last two years, the Ghana Revenue Authority has encouraged Ghanaians to merge their TIN to their Ghana card so we have a consolidated identity.

"Yet he comes here to let us think the man of God has two TIN when indeed, these forms are no longer in use cos we have all merged and using our Ghana card number. The Man of God does not two TIN. His TIN is his Ghana Card Number.You destroy and innocent Ghanaian and u keep jumping from one issue to the other, and then you claim Christian."

Using arguments by UK-based lawyer Kofi Opare Hagan, Mr Aboagye quoted:
"It is a fact that in 2013, there was nothing in Ghana known as TIN. The law allowing the Commissioner to generate and assign TINS was passed in 2016.

"How, then, does any person argue, based on a form filled out in 2013, that it was used or intended to procure a TIN? When that TIN, pun intended, didn't even exist at that time. And even after the law was passed, it wasn't until 2018 that GRA started rolling out the issuing of new TINs.

"So again, what are the two TIN numbers he claims the man has? When were they generated? Because clearly they were not generated on the back of the 2013 forms he posted. They couldn't have when TINS did not exist."

Meanwhile Rev Kusi Boateng has said that he awaits the outcome of a Commission on Human Rights and Administrative Justice (CHRAJ) before responding directly to Okudzeto Ablakwa's claims publicly.