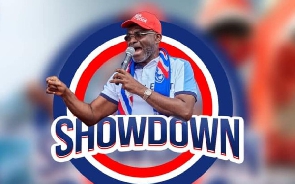 A meeting between Assin Central Member of Parliament and Vice President Bawumia was celebrated by New Patriotic Party (NPP) supporters after the November 4 presidential primaries.
The said meeting, first reported by the pro-government Daily Guide newspaper, took place at the MP's residence with party unity ahead of the 2024 general elections top of the agenda.

Adakabri Frimpong-Manso, a presenter with Despite Media, alleged during a broadcast on Neat FM last week, that the meeting was not as cordial as reported, adding that Ken was actually ambushed after he evaded several invites from the Bawumia camp.

"They did all they could to get him but he was also evading them, so they surveilled him till they realised he was at home and then they ambushed him," he said on Neat FM last week, asking: "Isn't there the need to inform people of your visit?"

He continued: "This was a case where he was not aware. They tried all they could through the handlers, so when they checked and got information that he was at home, they made their move.

"They kept very long at the residence and had extensive conversations," he added stating that a central theme was around persons who abused Agyapong during the flagbearer campaign.
He said even before party unity, Agyapong had raised issues with some pro-Bawumia supporters who had publicly abused him during the flagbearer campaigns.

Adakabri said: "Our monitoring shows that two things were discussed. Pro-Bawumia people who had attacked Ken Agyapong, three names came up, Miracles Aboagye, Hawa Koomson and Ursula Owusu.

"It is clear that Ken will not agree to be on a platform with these three persons, but he was largely appealed to. They also discussed campaigning and how it would be structured. Nothing about running mate came up," he stressed.

Dennis Miracles Aboagye is a presidential staffer who accused Ken Agyapong of having an over-bloated sense of importance in the run-up to the November 4 vote.

"We also, in the media, make people feel…There is something my godfather always says: You can have an overrated impression of yourself. He's too sure about how many votes he can get in the NPP," he said.
He has since backtracked after the vote stating that the Assin Central MP is a critical asset to the NPP ahead of the 2024 electioneering campaign.

Ursula Owusu-Ekuful and Mavis Hawa Koomson, serving lawmakers and ministers were also on record to have spoken in harsh terms against Kennedy whiles stating their support for Vice President Mahamudu Bawumia as leader of the NPP come 2024.

In a media interview at her constituency on the day of the vote [November 4, 2023], Mrs Owusu-Ekuful said "I know what the kingmakers in this constituency have told me," she supported her claims, adding "Bawumia will secure nothing less than 80 per cent of the votes."

Speaking at a gathering in Kasoa over the weekend, she pointed to government-appointed roles that Agyapong and his wife were holding to buttress her point that he had no moral right to criticize the government or delink himself from it.

"You are Board Chairman of Ghana Gas, still serving in the role, you haven't resigned. Your wife is Board Chair of Shippers Council from 2017 till date. So, your wife and yourself are all invested in this government.
On her part, Hawa Koomson told a gathering in Kasoa prior to the day of the vote said: "Your wife has given policy direction since 2017 till date, you are still at Ghana Gas, then you turn around to say anyone in the current government must not be elected. Then you are also disqualified. Addai-Nimoh is the ideal candidate then."

Agyapong placed a respectable second during the November 4 polls with Bawumia winning by over 61%. The Vice President will now lead the NPP into the 2024 general elections even as Ken bows out of Parliament after five terms.

SARA



Ghana's leading digital news platform, GhanaWeb, in conjunction with the Korle-Bu Teaching Hospital, is embarking on an aggressive campaign which is geared towards ensuring that parliament passes comprehensive legislation to guide organ harvesting, organ donation, and organ transplantation in the country.
Watch the latest episode of Everyday People below: