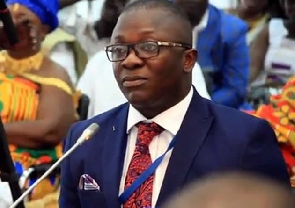 Minister of State in charge of National Security, Bryan Acheampong, has stated that the three Takoradi kidnapped girls are alive.
In an interview monitored by ABC News Ghana, the Minister indicated that the location of the girls is known and that the security agencies are working assiduously to return them to their families.

"I think that in terms of where the investigation is leading us, I know we know where they are," he stated.

"And so people will put the question if you know where the girls are, then go and bring them. It's not as easy as that and that is where I want to clarify so you don't put it in the minds of people that we say we know where they are. We know the country they are in and we are doing everything possible to bring them back," he said.

Matters relating to the rescue of the 3 girls have been a long-standing debate amongst Ghanaians since their disappearance.

The families have been desperate for news of their daughters and their whereabouts since Priscilla Bentum was kidnapped in August 2018 – the first of three such incidents.

Since then, two others have gone missing; Priscilla Mantebea Koranchie and Ruth Love Quayson in December of the same year.
There is however a possibility that these desperations will soon be over since Mr. Acheampong also indicated that according to information available to the National Security operatives, the girls are alive and alright.

"The information we have now, they are fine, they don't wish to be where they were but we know that they are fine, if it was otherwise, we would have known" he revealed.

According to him, the National Security operatives were able to quickly rescue the two Canadians because they had not crossed the Ghanaian borders to another country

"We knew the Canadians were in Ghana, we knew they had not crossed our borders, we knew that even though we had trailed the kidnappers from Aflao to Ashiaman to Kumasi and certain sections of Kumasi, we knew that they were not in Ashiaman, we knew they were in Kumasi, then we drilled down until we got to a house" he explained.