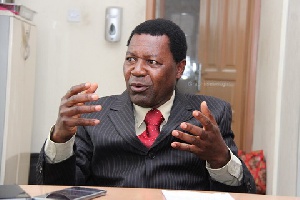 The Mobile-based Renewal Application System introduced by the National Health Insurance Authority (NHIA) is impacting significantly on the National Health Insurance Scheme (NHIS) in the Bono, Bono East and Ahafo Regions.
The System allows NHIS members to renew their membership from the comfort of their homes with the aid of a mobile wallet-enabled phone without necessarily traveling or walking distances to the NHIA's district offices to do so.

Figures from the Bono, Bono East and Ahafo Regional Office of the NHIA in Sunyani indicated that more than 291,729 beneficiaries of the Scheme renewed their membership from January to June this year.

Target for the renewal of membership was 185,664, an achievement of about 157 per cent.

As at June this year, the Scheme had registered 1,407,710 members in the three regions.

Investigations by the Ghana News Agency (GNA) showed that the mobile application renewal system has whipped up the enthusiasm of many people in the regions to register with the Scheme.

Interacting with a section of the media in Sunyani, Mr. George Oppong Danquah, the Bono, Bono East and Ahafo Regional Operations Manager of the NHIA, said 91,538 indigenes had also been registered free of charge to enjoy the NHIS in the three Regions.
He said the NHIS had gone through serious reforms, saying currently members were being authenticated non-biometrically at healthcare facilities after which an SMS interactive prompt feature confirms attendance.

This feature seeks to minimise the incidence of forged claims and ultimately reduce NHIA expenditure, Mr Danquah explained.

He announced that the Attorney General's (AG) Department had granted the NHIA the fiat allowing the Authority to prosecute its cases, adding that criminal offences against the NHIA were being reviewed by the in-house legal team trained by the AG's Department to make way for swifter prosecution.

At 15 years, Mr. Danquah said the NHIS was instituting the right reforms to enable it to achieve Universal Health Coverage (UHC) and to ensure financial risk protection against the cost of healthcare for all Ghanaians.

"The new reforms have already increased confidence in the Scheme with close to 4,500 credentialed facilities signed up to offer services to the NHIS members. Overall this will increase the health-seeking behaviour of Ghanaians and improve mortality rates in Ghana," he said.