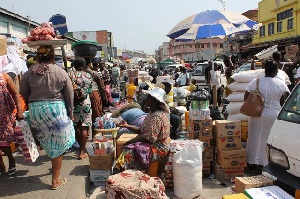 Government must reverse declining public spending by expanding the tax net and ensuring progressive revenue generation if the inequality among the population is to be addressed, a new inequality research report drafted by OXFAM, SEND Ghana and the Ghana Anti-Corruption Coalition has suggested.
According to the report, the richest man in Ghana now earns more in a month than one of the poorest women could earn in 1,000 years.

The report, titled 'Building a More Equal Ghana', further shows that while 1,000 extra millionaires were created between 2006 and 2016, the poorest 10% of Ghanaians share only 2% of total consumption.

While highlighting giant strides made in fighting poverty over the years, the report shows, among other things that nearly 300,000 more men, women and children could have been lifted out of poverty between 2006 and 2013 had wealth distribution been fairer.

Tax systems play a vital role in fighting inequality. By making the rich pay more than the poor, a progressive taxation system redistributes wealth and income from the 'haves' to the 'have-nots'.

They also play a critical role in the provision of free, good-quality public health and education services to all, which is critical to reducing economic and social inequalities.
"Any widening of the revenue base must be done with a focus on a progressive approach to taxation if it is to help fight extreme inequality in Ghana. Priority must be given to ensuring that taxes fall on those most able to pay in Ghana – large companies and wealthy individuals," the report titled 'Building A More Equal Ghana' noted.

It further states that – in order to make the tax system more progressive overall – government should attempt moving to a higher share of direct taxation in the overall tax mix, rather than more regressive indirect taxation.

Other methods to increase revenues progressively, as captured in the report include: A reform in the direct taxation rates to ensure that sufficient revenues are collected in a progressive manner; redesigning the personal income tax (PIT) system to increase its progressivity. The report advocated for an increase in the country's top PIT rate of 25 percent.

Drivers of inequality

The report highlights five key drivers of inequality in the country as follows:
Poor financial management – Ghana is facing a new debt crisis barely a decade after having significant amounts of debt cancelled. In 2017, 42 percent of government revenue was being allocated to debt repayments;

Poor public services – Government healthcare spending is low and decreasing; from 10 percent of total government budget in 2010 to 7 percent in 2017;

Work isn't paying – 90 percent of the population, including 45 percent of men and 55 percent of women, work in the informal sector where income is low, jobs are insecure, and basic benefits such as sick-pay, maternity pay and a pension are non-existent;

Gender inequality – Women are half as likely to own land or their own home. They are concentrated in the lowest-paid and most vulnerable jobs – earning just 67 percent of the average male hourly income in 2013;

Corruption and political capture – A small but growing number of the economic and political elite are using their power and wealth to ensure that government policy works in their favour.
Geographical Inequalities

The report also highlights huge geographical inequalities. Rural poverty levels are now almost four times as high as urban poverty levels; and communities in the three northern regions experience far higher levels of poverty and deprivation than elsewhere in the country.

For example, only 26 percent of the poorest girls from the Northern Region finish primary school compared to 90 percent of boys from the richest 10 percent of the population in Accra.

The report also suggests a five-point plan needed to close the gap between the rich and the rest.

These include: Improving public financial management, making public spending more equity-enhancing, creating decent work with good wages, putting women's economic empowerment at the heart of policymaking, and making governance work for everyone.
Mr. Zakaria Sulemana from Oxfam Ghana indicated that it is critical for government to take the report seriously in order to address inequalities in the country.

"Government should take the report seriously because it gives an analysis and propositions which will enable us to spread the benefits of economic growth to the majority of the population," he told B&FT at the launch of the five-point action plan to close the gap between the rich and the rest.

The report is also expected to enhance development of the country, and if government is able to implement the report's five points it will help in the long run to diffuse any social instability that can be caused as a result of inequality," he noted.