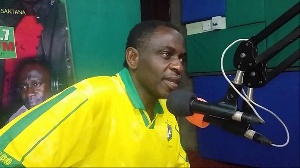 Former Ghana international Mohammed Polo has pleaded management of the senior national team and fans of the Black Stars to give coach Kwesi Appiah another chance.
Fans of the Black Stars and the general public have descended heavily on Kwesi Appiah following Ghana's early elimination from the Nations Cup in Egypt.

However, legendary Ghanaian footballer Mohammed Polo believes the 59-year deserves another opportunity to fix things with the team.

"We've had many Black Stars coaches who failed like Kwesi Appiah. He is one of our own and needs to be treated fairly," Polo told OTEC FM.
"It's just unfortunate he failed but that doesn't mean we should sack him or get rid of him. We have invested a lot in him so we shouldn't let it go waste. I know definitely, there would be amendments in the future so he needs another chance," he added.

Coach Kwesi Appiah returned to the Black Stars for the second time after he was reappointed in 2017.