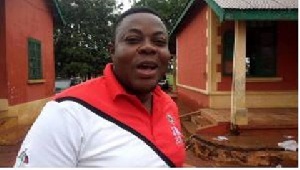 One of the convicts in the infamous Montie 3 saga, Godwin Ako Gunn, has said he is unperturbed about the ongoing suit to annul the remission granted him and two others by John Mahama while in office as president, describing the legal action as a "wild goose chase".
According to him, "it is not part of my worry, yesterday we were supposed to be in court but we were on the street demonstrating and that was more important to me than following a wild goose chase".

He told Class91.3FM's Ibrahim Obeng-Mensah that he has not been invited by the court and has "no fears".

Mr Gunn said he has psyched himself up for whichever way the verdict goes.

"If I go [and] open my [car] boot [you will see that] there is always a bag inside that enables me to travel outside Accra [and] wherever, and if I have to travel to Nsawam for two months, I have enough dresses to take me there, I'm always prepared," he said.
It will be recalled that the Supreme Court adjourned indefinitely the hearing on the petition.

The Chair of the seven-member panel, Justice Sophia Adenyira, ordered counsel for the plaintiffs to file their cases in the next 21 days after which a date will be set for hearing.

Some private citizens including Nana Asante Bediatuo are challenging the decision by Mr Mahama to have freed Mr Gunn as well as Alistair Nelson and Salifu Masse, alias Mugabe, who were jailed by the apex court for criminal contempt after they issued death threats against some judges.

However, after serving three weeks out of the four-month jail term, the President granted them remission.