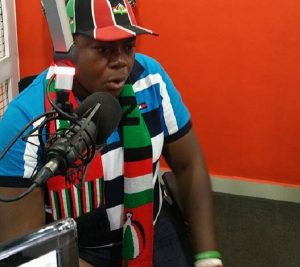 Godwin Ako Gunn one of the incarcerated panelists of Accra-based Montie Fm, insists that the purported tape that landed them in trouble was doctored by some unnamed individuals just to have them incur the wrath of the apex court of the land.
Salifu Maase (alias Mugabe) Host of Pampaso on Montie Fm, Alistair Nelson and Ako Gunn who were each sentenced to 4 months imprisonment and additionally fined GH¢10,000.00 each for scandalizing the Supreme Court.

They were however released after being granted remission by President John Dramani Mahama upon advice from the Council of State.

But Ako Gunn who was speaking on Abusua Nkomo hosted by Kwame Adinkra insists they never said some of the things contained in the tape which was replayed in court leading to their conviction.

He maintains, he never threatened the judges as alleged and argued that the audio clip used as evidence against him was mischievously tempered with just to trap him under the law.
"Me, as am talking to you now, I know the people that tempered with the audio, I have just decided to ignore them. The day they said the program held, I wasn't in the studio," he explained.

"I was on Montie's program on the same day as Oti Bless, so why didn't they invite Oti Bless too, this tells you that indeed I was not there on that day," he added.

"But Kwame, I am still opening fire, the bie gya agenda continues in support of the compassionate president Mahama."

The ex-convict, who is touring Ghana in support of the president's campaign, revealed that he has been telling the electorate that President Mahama "is the most compassionate person "to lead Ghana.