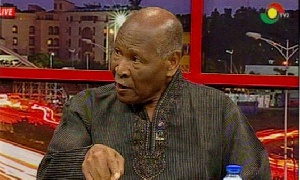 The Montie 3: Alistair Nelson, Godwin Ako Gunn and Salifu Maase (Mugabe) are "rascals", recently-appointed Council of State member Sam Okudzeto has said.
The former president of the Ghana Bar Association, while speaking about the powers of the Council of State in an interview with Accra-based Joy FM on Friday, 17 February, said the advice by the immediate past membership of the presidential advisory body to then-president John Mahama to free the three contemnors "…was one of the worst episodes … and also the misuse of that institution."

"For them [Council of State members] to have gone and said they should grant pardon to rascal boys, who were threatening the judiciary and even the Chief Justice, and all that the court did was to give them what I call 'a mild sentence, very mild'; four months is very mild, that was even what makes it more nonsensical," Mr Okudzeto added.

Background

The trio were freed from the Nsawam Medium Security Prison on Friday, 26 August 2016 after Mr Mahama remitted the remainder of the four-month jail sentence imposed on them by the Supreme Court.

They had been found guilty of scandalising the Supreme Court, defying and lowering its authority, and bringing it into disrepute.
While the governing party welcomed the remission, opposition parties criticised the president for it.

A statement signed and released on Monday, 22 August 2016 by Communications Minister Dr Edward Omane Boamah at the time said Mr Mahama "...has, in consultation with the Council of State and in exercise of his constitutional powers under Article 72 of the Constitution, remitted the remainder of the prison sentence imposed" on the three persons, who, apart from the custodial sentence, were each fined GHS10,000.

The three were sentenced on 27 July 2016 and served a month of the term before the remission was granted.

Dr Omane Boamah at the time said the president decided to remit the sentences of the trio on compassionate grounds after they [Montie 3] petitioned him to exercise his prerogative of mercy.

Mr Gunn and Mr Nelson, who were panellists on a political talk show called Pampaso on Montie FM, hosted by Mugabe threatened to kill judges of the apex court while discussing issues concerning the register of voters ahead of the 7 December 2016 polls.