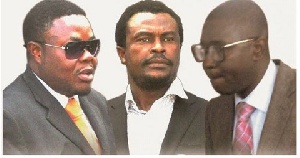 The Supreme Court has set March 28, 2018 to hear petition filed by three Ghanaian legal practitioners against the Attorney General (AG) challenging the constitutionality of former President Mahama granting Presidential pardon for the Montie 3 who were jailed for contempt of court in 2016.
The plaintiffs are pleading with the apex court to strike down as null and void and of no effect the purported pardon granted by former President Mahama of a remission of the punishment of a three month jail term imposed on Alistair Nelson, Godwin Ako Gunn and Salifu Masse aka Mugabe.

Former President John Mahama in August 2016 pardoned three persons serving a four-month jail term for criminal contempt.

Background

The three had threatened to rape the Chief Justice Georgina Theodora Wood and kill other judges who sat on a case brought against the Electoral Commission.
By presiding over the case, the three said the judges wanted to foment trouble in the country and that if the 2016 elections turned violent they knew the homes of judges and finish them.

Their comments were roundly condemned by all and were later hauled before the judges to answer why they should not be held liable for contempt.

The three, together with the Directors of the radio station and the owner pleaded guilty to the charges of contempt and were duly sentenced on July 27, 2016.