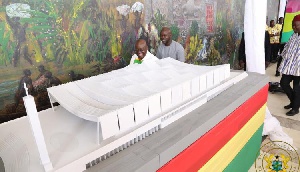 More state buildings from which some judges were evicted have been demolished to pave the way for construction work on the controversial National Cathedral to begin at the plush Accra Ridge.
About 50 buildings made up of offices and residential apartments for state officials, have been earmarked for demolishing.

Court of Appeal judges who occupied some of the residential facilities constructed by the Judicial Service some five years ago, were evicted late last year and given a temporary accommodation set to cost the state some 168,000 dollars in 18 months.

All buildings within the Ridge enclave from the Ridge roundabout to the Scholarship Secretariat, the Judicial Training Institute and the Passport Office will be pulled down.

On Wednesday morning, bulldozers were moved to the site to pull down six of the buildings. It is the second demolition exercise at the site.

Workers declined to give details on the demolition exercise, claiming they were under strict instructions from their boss, one Clement Jato, who they claimed was in a meeting at the Jubilee House.

Information gathered by 3news.com suggests the demolition is being done in phases but it is unclear when the exercise will be completed for actual construction of the 5,000 capacity cathedral.
The Cathedral

President Nana Akufo-Addo on March 6, 2017, announced plans by his government to build an interdenominational Christian cathedral as part of Ghana's 60th anniversary celebrations.

Per the architectural designs by the British-Ghanaian David Adjaye, the cathedral will boast of chapels and baptistery, have a music school, an art gallery, and a Bible museum.



But the announcement was met with stiff opposition from Ghanaians, including some religious groups and civil society, some of who questioned government's involvement in the construction of a cathedral.

A former youth leader of the Convention People's Party, James Kwabena Bomfeh, caused a writ to be issued at the Supreme Court challenging the constitutionality of the plan by government to support the construction.
But the Supreme Court dismissed the suit.

Fundraising

A fundraising campaign was subsequently launched on December 28, 2018 for the cathedral project at which President Akufo-Addo made a personal contribution of 100,000 cedis.