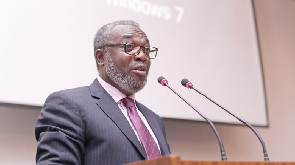 The presidential adviser on health, has said that the government's Agenda 111 project has served as a source of employment for the people of the Nkwanta North District in the Oti Region.
Dr. Anthony Nsiah-Asare said when the project started, the contractors hored local artisans to work on the Agenda 111 project.

He made these remarks during the Agenda 111 Impact Forum held in Kpassa within the Nkwanta North District of the Oti Region.

Addressing stakeholders at the forum, Dr. Nsiah-Asare the project will not only enhance the healthcare status of the district but will also create jobs for the residents in the areas where the various hospitals are being constructed.
"When this project started, the contractors employed a lot of our local artisans; the carpenters, masons, steel benders, and most other artisans in other areas.

"Apart from that, there are people who are also selling pure water, and food for the workers and we have created some jobs in the local community even before the buildings are completed and commissioned."